Out Of Stock
Roll over image to zoom in
Click to open expanded view
MSI X99A Sli Plus USB 3.1 Ready DDR4 LGA2011v3 Socket Motherboard
New Product
All Products are Genuine, New & Original.
Shipping Time
Within 7 Working Days
Secure Checkout
SSL Enabled Secure Checkout
Delay
Due To Outbreak Of Covid 19 All The Shipments May Be Delayed.
₹29,550.00 (-29%)
Supports New Intel Core i7 processors Extreme Edition in LGA 2011-3 socket

Supports Quad Channel DDR4-3333(OC) Memory

USB 3.1: Delivering speeds up to 10Gb/s, USB 3.1 offers performance twice as fast as a regular USB 3.0 connection

Turbo M.2: delivering next generation M.2 Gen3 x4 performance with transfer speeds up to 32 Gb/s

Multi-GPU: NVIDIA Quad SLI & AMD Quad CrossFire Support

MSI USB 3.1 2X FASTER
USB 3.1 allows for speeds up to 10 Gbps, doubling the speed compared to USB 3.0 and 20x faster than legacy USB 2.0. USB 3.1 is even faster than SATAIII! Transferring your favorite games, music and movies over USB has never been faster.
Feature
2X faster than USB 3.0
20x faster than USB 2.0
Up to 10Gbps data transfer bandwidth
Boost transfer rate between your PC and external storage devices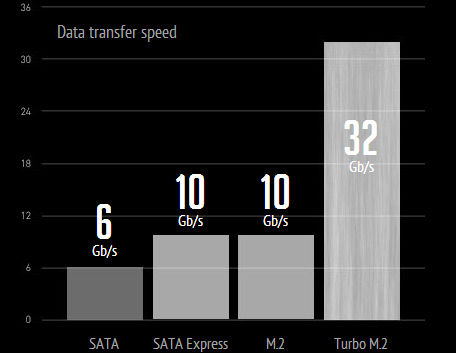 PUSH YOUR SSD
EVEN HARDER WITH TURBO M.2
Delivering speeds up to 32Gb/s using Gen3 x4, Turbo M.2 is more than 5 times faster than a regular SATA III connection! Enjoy a blazing fast system boot up and insanely fast loading of applications and games with MSI motherboards.
Next generation M.2
Turbo M.2 is the successor to M.2 10 Gb/s, offering 3 times more performance up to 32 Gb/s using Gen3 x4. M.2 is packed in a small form factor and is compatible with 3 different sizes to fit most storage solutions. All latest generation Intel® based MSI motherboards feature Turbo M.2 storage.
FAST STORAGE
WITH SATA EXPRESS
SATA Express introduces a new solution in high speed storage through PCI-Express, providing more bandwidth for the latest generation SSDs up to 10 Gb/s.

OPTIMIZED FOR
MULTIPLE GRAPHICS CARDS
With a large number of PCI-Express 3.0 x16 slots for every MSI motherboard, you get to choose optimal placement for your graphics cards for better fitting and airflow up to Quad SLI/CF. That way, you can enjoy the best graphics at the highest framerate jumping off from your screen when running a NVIDIA® SLI™ or AMD CrossFire™ setup.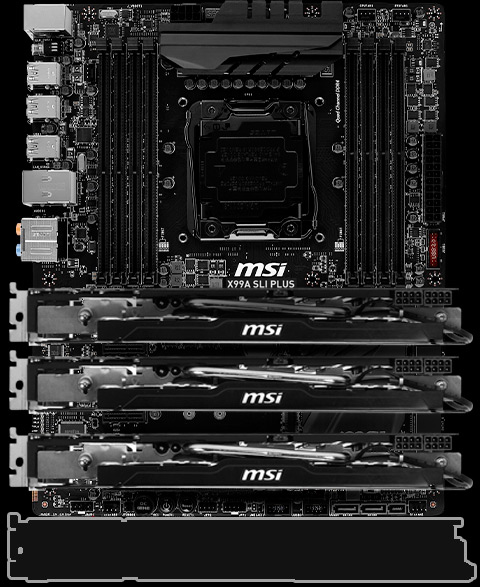 Run into unstable situations when pushing your CPU to the limit? This occurs because the internal clocks are linked through the 100 MHz BCLK strap. Thanks to a integrated Clock Generator, MSI motherboards support more flexible BCLK adjustments, from 100 / 125 / 167 MHz straps.
Using these straps prevents system crashing while overclocking on the edge and opens doors to achieve the absolute maximum. The MSI X99 motherboards all come with the next generation Clock Generator offering even lower jitter and power consumption resulting in even higher stability under extreme conditions.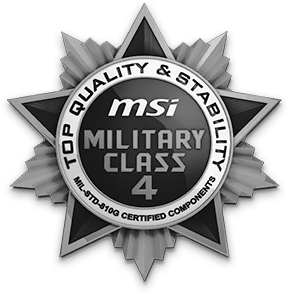 MILITARY CLASS 4
Military Class 4 is the next step in high quality components. The Dark Choke and Solid CAP will make sure that your PC runs more stable under extreme gaming conditions.

SUPER FERRITE CHOKES
uper Ferrite Chokes use a Ferrite core that is Super-Permeable. This allows the Super Ferrite Chokes to run at a 35 degree Celsius lower temperature, have a 30% higher current capacity, a 20% improvement in power efficiency and better overclocking power stability.

SOLID CAP
With their aluminum core design and Japanese made quality, Solid CAPs are made for high-end design motherboard. Not only do Solid CAPs could provide lower Equivalent Series Resistance (ESR), but also work firmly for over-10-year.
CIRCUIT PROTECTION

Carefully selected materials, multiple PCB layers and shielding result in the best circuit protection for our motherboards.

ECO POWER

With MSI ECO Center you can physically cut the power to unused chips to save up to 19% power usage.
HUMIDITY PROTECTION

10% Reduction in moisture absorption helps prevent "Conductive Anodic Filament". Untreated PCB's can have 10x higher failure rate.

HIGH TEMPERATURE PROTECTION

All key components used in MSI motherboards have all passed military testing ensuring stable operation in the harshest environments.

ESD PROTECTION

Each and every I/O port is protected against the hazards of Electro Static Discharge.

EMI PROTECTION

All MSI motherboards comply with stringent American FCC regulations and reduce the impact of Electromagnetic Interference.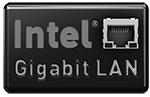 INTEL® GIGABIT LAN
Always connected with Intel® Gigabit LAN networking. The latest MSI X99 motherboards come equipped with the high quality network solution from Intel®. Optimized for multimedia and gaming use to deliver a stable and fast network connection.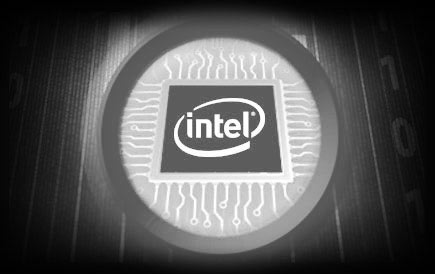 ECO POWER
ECO Power helps users to manage their hardware and power usage. Save up to 19% power consumption by completely disabling unnecessary hardware. ECO Power not only lowers the power consumption but also avoids short circuiting and signal noise.
| | | | |
| --- | --- | --- | --- |
| DEVICE | ON (W) | OFF (W) | SAVE WATT |
| USB 3.0 | 65.5 | 64.0 | 1.5 |
| USB 3.0 | 65.5 | 63.8 | 1.7 |
| USB 3.0 | 65.5 | 64.1 | 1.4 |
| Wi-Fi | 65.5 | 63.8 | 1.7 |
| M.2 | 65.5 | 62.2 | 3.3 |
| CPUFAN* | 65.5 | 64.8 | 0.7 |
| SYSFAN1* | 65.5 | 64.8 | 0.7 |
| SYSFAN2* | 65.5 | 64.8 | 0.7 |
| SYSFAN3* | 65.5 | 64.8 | 0.7 |
| TOTAL | 65.5 | 53.1 | 12.4 |
* Power saving measurements might be different among different models.

CIRCUIT PROTECTION
With specially designed circuit protection, the MSI motherboard protects the CPU against overheating and USB devices from short circuiting.

USB STEEL POWER
Are your USB Bitcoin ASICs drawing too much USB power resulting in losing bitcoins? USB Steel Power offers a stable 5 volt to all USB ports via an extra PWM, optimizing all USB ports so that you'll never have to worry about any Bitcoin loss.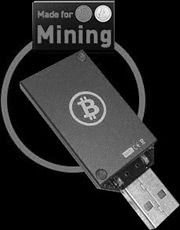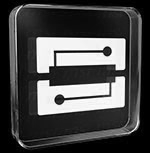 SMART UTILITIES
The MSI Smart Utilities application helps to easily setup, configure and boost your systems' performance and more through Intel® key technologies:
*This feature only works on platform/model that supports Intel® Smart Response technology.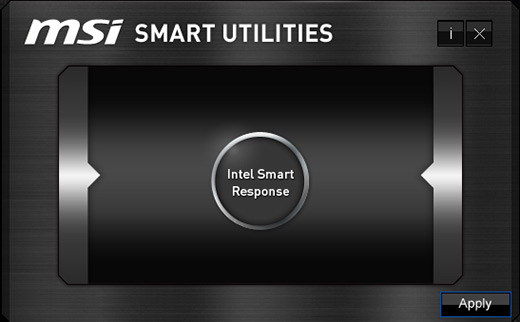 OC GENIE 4
With the one-second overclocking option OC Genie we're giving you even more performance. Just hit the button and your PC gets another adrenalin shot straight away. Give your system an awesome performance boost with ease.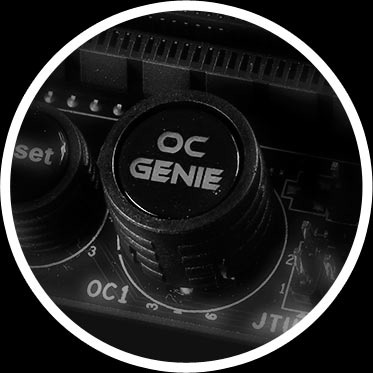 CLICK BIOS 4
The MSI Click BIOS 4 is the latest UEFI BIOS with optimizations for Windows 8.1 / Windows 10. Not only that it also reacts faster, runs smoother and has better mouse support. And this all comes with many cool features. Click on the button on the right to visit our dedicated BIOS page and learn more.
CLICK HERE TO GO TO

UEFI BIOS PAGE


FOR MORE INFORMATION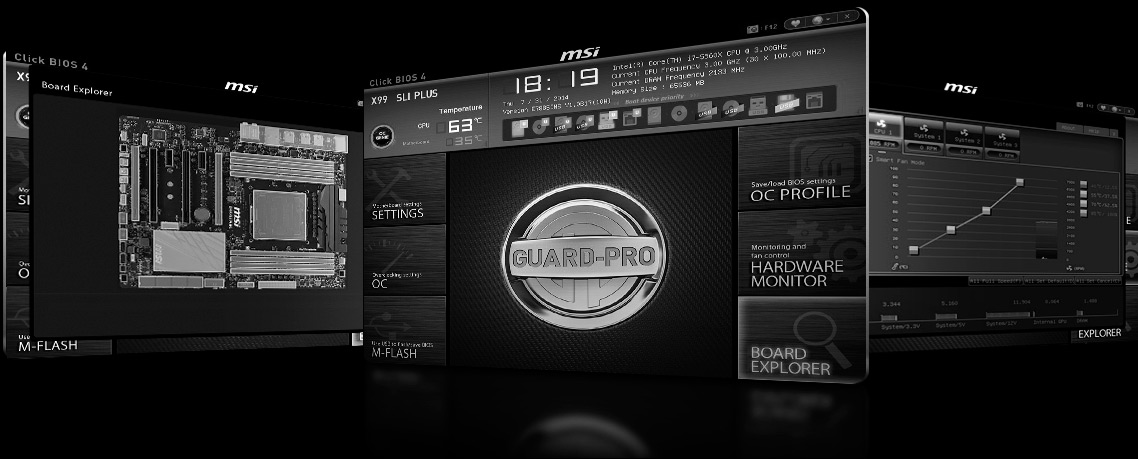 SOFTWARE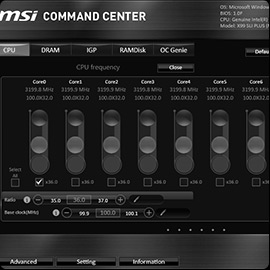 COMMAND CENTER
MSI's Command Center software is a very powerful tool to push your motherboard to the max. With a very intuitive touch ready interface, Command Center allows users to tune settings to increase system stability, maximize overclocking performance and adjust cooling features.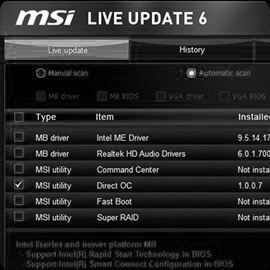 LIVE UPDATE 6
MSI Live Update is renewed! Our popular software automatically downloads and installs the latest drivers, BIOS and software. Rest assured while your system is always configured using the latest software so you get the maximum performance and stability.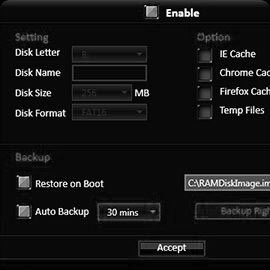 UNLIMITED RAMDISK
MSI Command Center integrates an unlimited RAMdisk. With a RAMdisk you can create a virtual drive from your system memory enabling speeds 20x faster than a modern SSD.
Speed up system performance

Load complete game images

Speed up games, apps and browser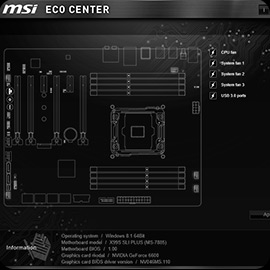 ECO CENTER
Save the planet, lower your electrical bill. ECO Center lets you disable unused chips and functions used on your motherboard. By cutting off the power entirely, your motherboard will run more efficient, up to 19%!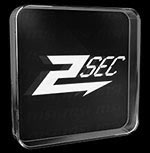 FAST BOOT
No more seamless waiting for your O/S to be loaded! MSI Fast Boot helps to make your system boot lightning fast. MSI Fast Boot also features a GO2BIOS button. Simply click it to restart your PC and go straight to the system BIOS.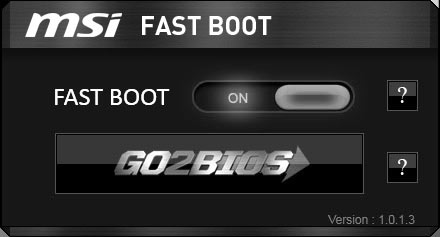 Additional information
| | |
| --- | --- |
| Weight | 1 kg |
| Dimensions | 35 × 32 × 6 cm |
| WARRANTY*** | 3 Years |
Specifications
Baseclock/Hyper Transport

2133/2200*/ 2400*/2600*/2666*/2750*/3000*/3110*/3333*(*OC)MHz

10(2 x ports compatible with 1 x SATA Express port)

1 x 2280 Key M(PCIe Gen3 x4/SATA)
Detail
CPU 
• Supports New Intel® Core™ i7 Processor Extreme Edition for LGA2011-3 Socket.
• Support lntel® Turbo Boost Max Technology 3.0
* Please refer to CPU Support for compatible CPU; the above description is for reference only.
Chipset 
• Intel® X99 Express Chipset
Main Memory
• Support eight DDR4 DIMMs 2133/2200(OC)/2400(OC)/2600(OC)/2666(OC)/2750(OC)/3000(OC)/3110(OC)/3333(OC) MHz, up to 128GB Max.
– Supports Quad-Channel mode
– Supports non-ECC, un-buffered memory
– Supports Intel® Extreme Memory Profile (XMP)
* Hyper DIMM support depends on the individual CPU physical characteristics
Slots
• 4 x PCIe 3.0 x16 slots, support up to 3-way mode
– 1-way mode: x16/ x0/ x0/ x0
– 2-way mode: x16/ x16/ x0/ x0*, 16/ x8/ x0/ x0**
– 3-way mode: x16/ x16/ x0/ x8*, x8/ x8/ x8/ x0**
• 2 x PCIe 2.0 x1 slots
* For the CPU that supports 40 PCIe lanes
** For the CPU that supports 28 PCIe lanes
Multi-GPU Support– Supports 3-Way NVIDIA® SLI™ Technology
– Supports 3-Way AMD® CrossFire™ Technology*
* Supports Windows 7 and Windows 8/ 8.1
On-Board SATA 
• Intel® X99 Express Chipset
• 10 x SATA 6Gb/s ports (2 x ports compatible with 1 x SATA Express port)*
– SATA7~10 ports only support IDE mode and AHCI mode.
– Supports Intel® Smart Response Technology (Windows 7/ 8/ 8.1)
• 1 x SATA Express port*
• 1 x M.2 port, supports M.2 SATA 6Gb/s module* or M.2 PCIe module up to 32Gb/s speed**
– M.2 Key M Socket supports type 2280/2260/2242 storage devices in both PCIE Gen3 x4 & SATA mode
– M.2 port supports 4.2cm/ 6cm/ 8cm length module
– M.2 PCIe module does not support RAID 0, RAID1, RAID 5 and RAID 10.
* The SATA Express port or SATA5~6 ports will be unavailable when installing the M.2 (Gen2 x2 mode) module in the M.2 port.
** Intel RST does not support PCIe M.2 SSD with Legacy ROM.
USB
• Intel X99 Express Chipset
– 6 x USB 3.0 ports (2 ports on the back panel, 4 ports available through the internal USB 3.0 connectors*)
– 6 x USB 2.0 ports (2 ports on the back panel, 4 ports available through the internal USB 2.0 connectors)
• ASMedia ASM1142
– 2 x USB 3.1 ports on the back panel
• VIA VL805
– 4 x USB 3.0 ports on the back panel
* Internal JUSB1 connector supports MSI Super Charger
Audio
• Realtek® ALC892 Codec
– 7.1-Channel High Definition Audio
– Supports S/PDIF output
LAN 
• 1 x Intel I218 Gigabit LAN
Internal I/O Connectors
– 1 x 24-pin AT x main power connector
– 1 x 8-pin AT x 12V power connector
– 10 x SATA 6Gb/s connectors
– 1 x SATA E xpress connector
– 1 x M.2 connector
– 2 x USB 2.0 connectors (supports additional 4 USB 2.0 ports)
– 2 x USB 3.0 connectors (supports additional 4 USB 3.0 ports)
– 2 x 4-pin CPU fan connectors
– 3 x 4-pin system fan connectors
– 1 x Front panel audio connector
– 2 x System panel connectors
– 1 x TPM module connector
– 1 x Chassis Intrusion connector
– 1 x Clear CMOS jumper
– 1 x Slow mode booting jumper
– 1 x Power button
– 1 x Reset button
– 1 x OC Genie button
– 1 x Multi-BIOS switch
Back Panel I/O Ports
– 1 x PS/2 keyboard/ mouse combo port
– 2 x USB 2.0 ports
– 1 x Clear CMOS button
– 6 x USB 3.0 ports
– 2 x USB 3.1 ports
– 1 x LAN (RJ45) port
– 1 x Optical S/PDIF OUT connector
– 5 x OFC audio jacks
BIOS
• The motherboard BIOS provides "Plug & Play" BIOS which detects the peripheral devices and expansion cards of the board automatically.
• The motherboard provides a Desktop Management Interface(DMI) function which records your motherboard specifications.
Form Factor
• 12 in. x 9.6 in. (30.5 cm x 24.4 cm) ATX Form Factor
Mounting
• 9 mounting holes