Out Of Stock
Roll over image to zoom in
Click to open expanded view
Creative Outlier Headphone
New Product
All Products are Genuine, New & Original.
Shipping Time
Within 7 Working Days
Secure Checkout
SSL Enabled Secure Checkout
Delay
Due To Outbreak Of Covid 19 All The Shipments May Be Delayed.
₹7,999.00 (-38%)
Crafted from durable material, the headband is flexible

Leatherette ear cushions are made of memory foam, perfect for prolonged use

Simply connect to Outlier via Bluetooth, NFC, microSD card, USB audio or 3.5mm Aux-in

The on-ear design keeps you alert to your surroundings

Built-in Pacer Mode measures total elapsed time and lap time

Enjoy up to 10 hours of music playback or eight hours of talk time on a single charge
OVERVIEW
Crafted in a featherlight design that fits comfortably on you, the Creative Outlier is a deserving companion on your exhilarating adventures, or outdoor escapades. The Outlier plays audio from four different sources – Bluetooth®, MicroSD card, USB and AUX-in. Complete with a set of Acoustic Rings, the Outlier can be customized to personalise the sound and colour of your headphones.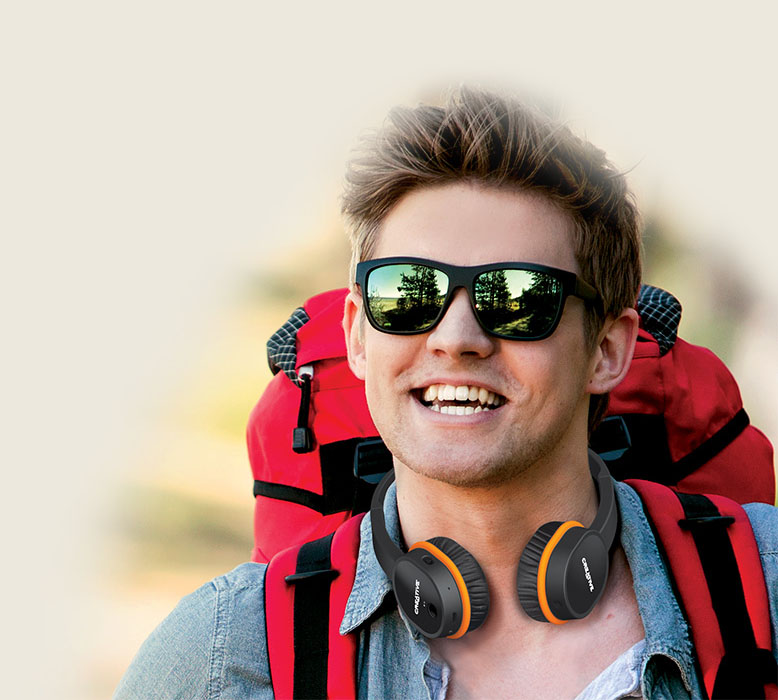 Your Healthy Lifestyle Companion
Designed for urban commuters and health enthusiasts. The versatility of the Outlier matches your everyday habits, be it for outdoor activities or daily commuting with 4-way music playback: Bluetooth, wired, USB audio and microSD card playback. With 10 hours of battery life, you can enjoy your favourite tunes all day long.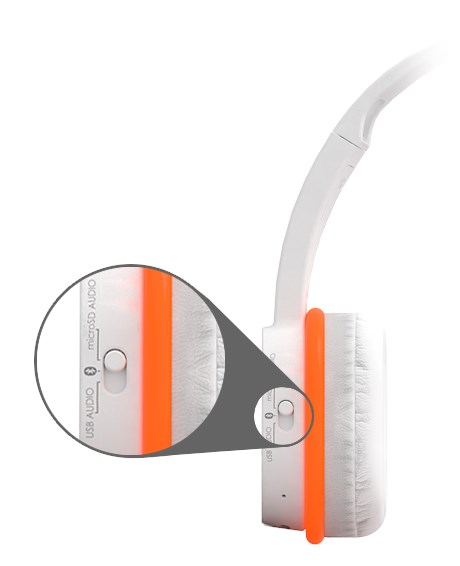 Enjoy Your Audio the Way You Like It
The Outlier, with its built-in MP3 player, allows you to play your favourite tracks from your microSD card. Supporting MP3, WMA and WAV formats, you can enjoy up to 10,000 high quality MP3 tracks1 by inserting a 32GB microSD card directly into the headphones.
NFC
If you have an NFC-enabled device, pairing with the Outlier takes seconds! Simply tap to pair, and you're all set to enjoy wireless audio via Bluetooth.

AUX-in
The Outlier comes with a regular 3.5mm stereo input so you can connect using the included stereo audio cable. So you can indulge in non-stop music enjoyment even when the headphones run out of juice!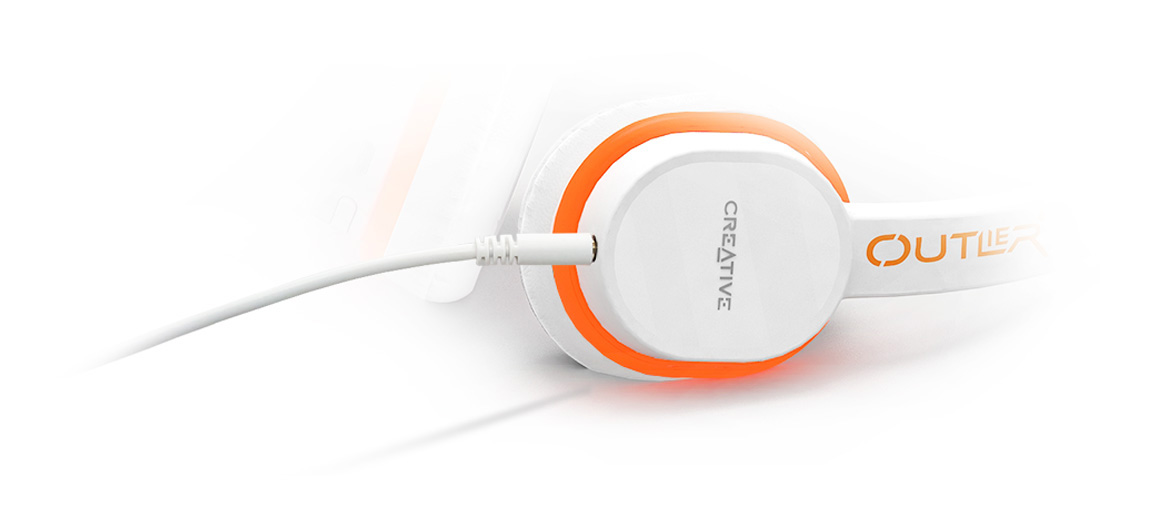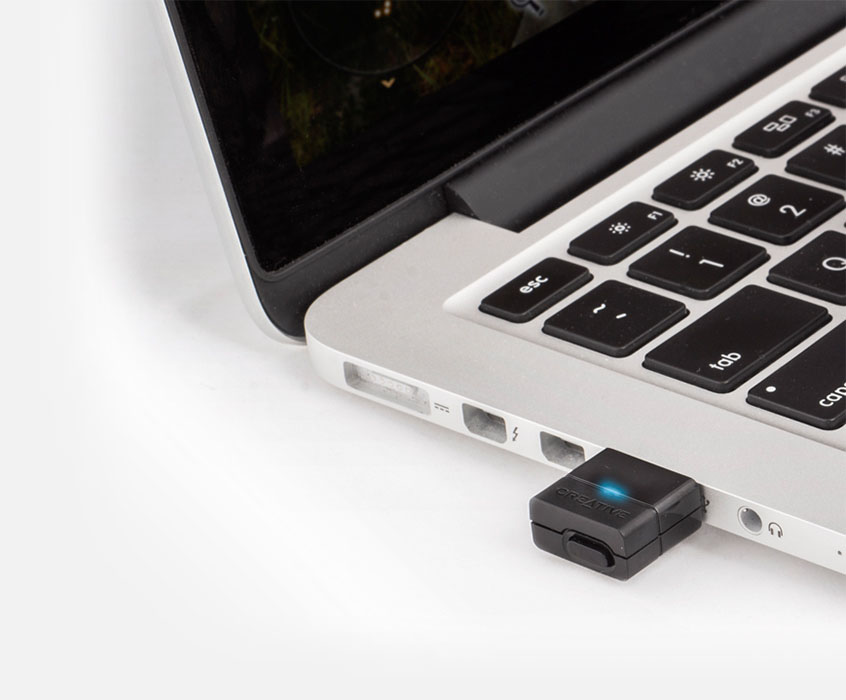 Enjoy Seamless Wireless Audio
Designed for seamless audio streaming, the Creative BT-W2 transmits smooth audio playback, as well as low latency voice communication from your PC/Mac. Now, you can enjoy real time audio syncing with your videos, and low latency voice communication for your Skype and video conferences.
Superb Audio Quality
The Outlier is fitted with a pair of Neodymium drivers to produce great playback of your audio from music to voice calls. Made from an alloy of rare-earth material and other metals, these sensitive drivers deliver powerful sound.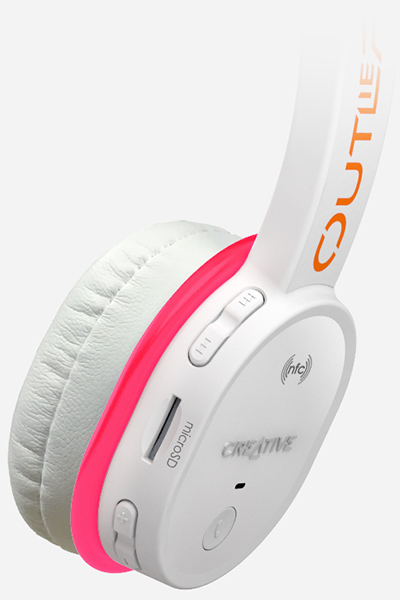 Audio Profiles
With the acoustic rings, the Outlier delivers balanced audio. 


Crisp Conversations
The built-in microphone with ClearSpeech™ Engine actively suppresses external noises and digitally enhances speech clarity so that your conversations are loud and clear. Moreover, it is HD Voice-ready2, breathing life into your phone conversations.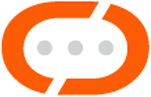 Buddy: Smart Voice Notifications
Android users can download our free Text-to-speech app, Buddy, which reads out notifications or text messages you want, such as SMS, WhatsApp, WeChat, LINE, Viber, Skype, Facebook Messenger, and more. Simply put on your Outlier, and you don't have to worry about missing important messages or notifications when you're on the go. Download now from Google Play!
Lap Timer
The built-in Lap Timer is designed to provide voice prompts about your lap time and the total time of your activity off the Outlier.4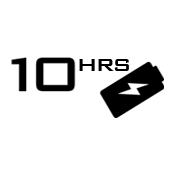 Great Battery Life
Enjoy up to 10 hours3 of music playback or 8 hours3 of talk time on a single charge. Simply recharge via USB power with the included cable. It is that easy.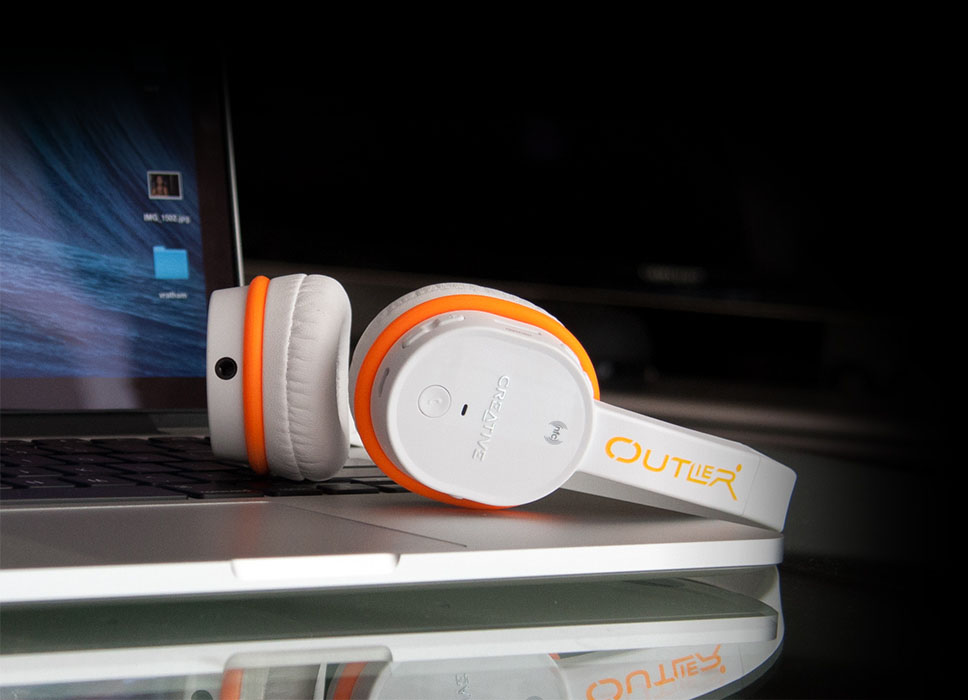 Manage Your Music with Ease
The Outlier allows the content of the microSD card to be accessed and modified directly from your computer when Mass Storage mode is on. This option frees yourself from the hassle of ejecting the storage card and looking for means to connect to the computer to manage your tracks. It is that seamless and convenient.

Works with PlayStation™ 4
Gamers can plug Creative BT-W2 into the PlayStation 4 to enjoy better wireless music listening and voice communication experience off the Outlier.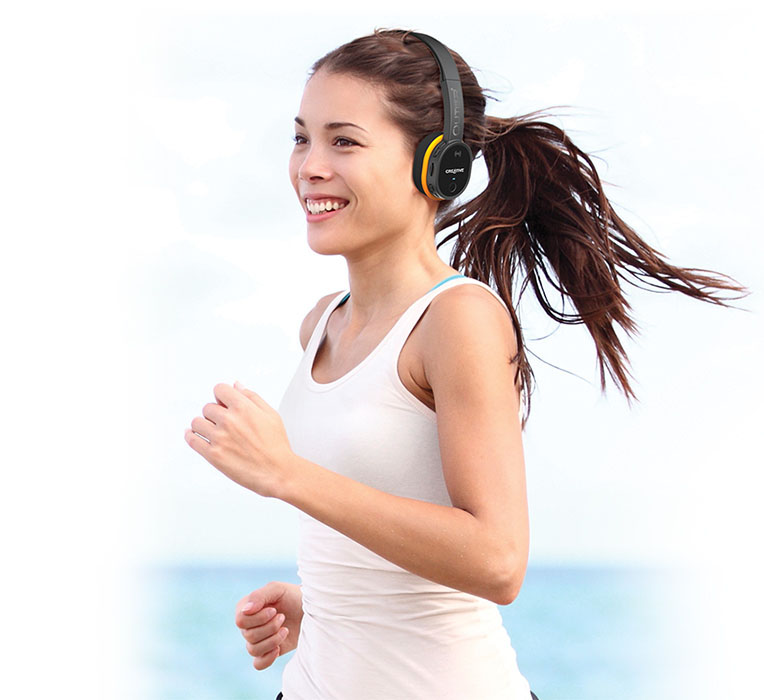 On-ear Design
The on-ear design offers great comfort and portability for long hours of listening with smaller ear cups. Plus, it allows you to stay alert to your surroundings, while you run your errands.
Lightest in its Class
The Outlier is crafted from durable and lightweight materials that are ideal for prolonged use. Fitted with soft protein leatherette ear cushions, they fit snugly around your ears to mimic the touch of human skin, thus delivering an almost non-existent feel.
Express Yourself in Vibrant Colors
The Outlier allows you to attach a pair of acoustic rings around each of the ear cups to personalise them according to your style. With six pairs of silicone rubber acoustic rings, go limitless in expressing yourself – be it being adventurous, feeling sexy, all charged up or just having fun! Experiment, tweak your taste and have fun with these options. The Outlier is truly a versatile companion for expressing yourself!

IN-DEPTH
Quick Glance at Outlier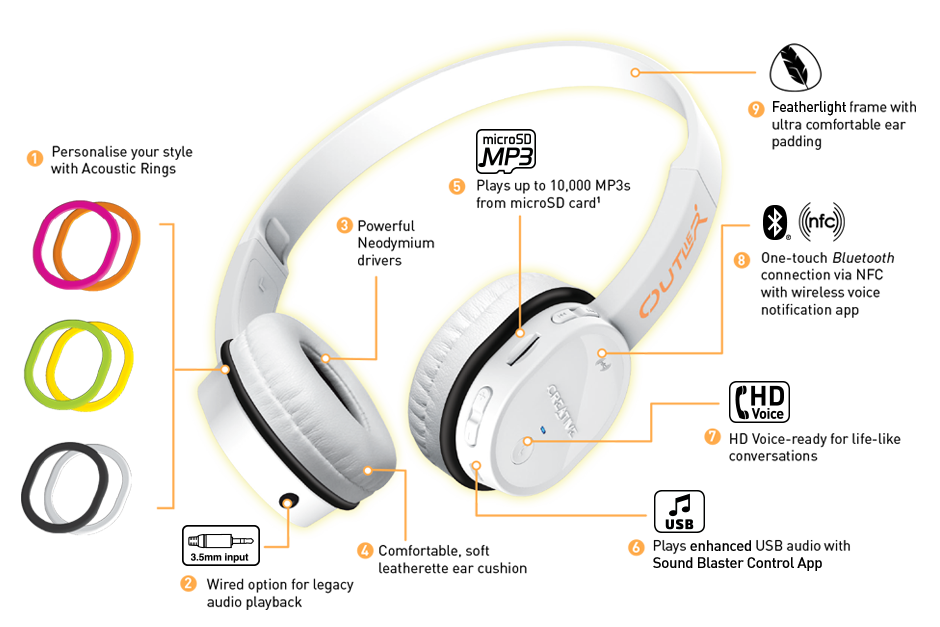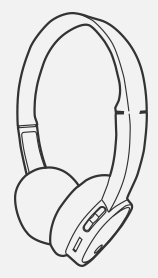 Creative Outlier Headphones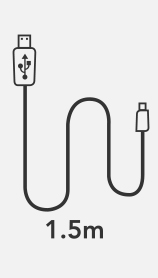 1.5m micro USB cable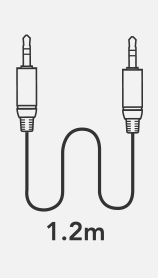 1.2m 3.5mm AUX-in cable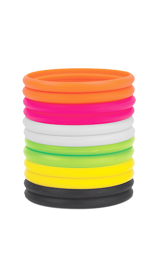 6 pairs of acoustic rings
1 Supports microSD or microSDHC cards up to 32GB formatted in FAT/FAT32. Supported audio formats: MP3, WMA and WAV (16-bit 48kHz PCM). Supports MP3 and WMA up to 320kbps. Does not support WMA Pro/Lossless. Up to 10k tracks from an average of 3MB per track.
2 Works with supported smartphones and mobile networks.
3 Actual battery life will vary with use, settings and environmental conditions.
4 Lap Timer announcements in English only.
Additional information
| | |
| --- | --- |
| Weight | 0.5 kg |
| Dimensions | 20 × 15 × 8 cm |
Product Specifications
Headphones: 93g (3.28oz), 1 pair of acoustic rings: 7g (0.25oz)
Color

Black, White
Main Features

Near Field Communication (NFC)
Frequency Response

20Hz ~ 22kHz
Cable Length

Micro USB cable: 1.2m / 4ft, Stereo Audio Cable: 1.5m / 5ft
Driver

32mm (1.26 Inches) Neodymium magnet
Connector Type

Bluetooth 4.1
Audio Codec

SBC
Operating Range

Up to 10m / 33ft
SYSTEM REQUIREMENTS
For wireless streaming:
Compatible Bluetooth devices that support the Stereo Bluetooth Profile (A2DP)
For playback or recording via MicroSD slot:
microSD or microSDHC cards up to 32GB formatted in FAT/FAT32.
Common audio formats such as mp3, wma and wav up to 320kbps.
For one-touch pairing:
NFC-enabled devices
For direct connection to Line-in jack:
Analog audio devices with a 3.5mm output or RCA output
For Sound Blaster Control Panel:
PC or Mac
PACKAGE CONTENTS
1 pair of Creative Outlier wireless headphones
1 micro USB cable (1.5m / 5ft)
1 stereo audio cable (1.2m / 4ft)
6 pairs of Acoustic Rings
WARRANTY
1-year Limited Hardware Warrant