Cooler Master MasterCase 5 Gaming Case
New Product
All Products are Genuine, New & Original.
Shipping Time
Within 7 Working Days
Secure Checkout
SSL Enabled Secure Checkout
Delay
Due To Outbreak Of Covid 19 All The Shipments May Be Delayed.
₹11,999.00 (-33%)
FreeForm gives you unparalleled flexibility to upgrade your case via the addition of top panels or doors, adjusting asethetics, thermal performance and layout flexibility

Unique clip-and-click components panel for drive cage adjustment

Supports up to 6 x 140mm fans

Easier to install water cooling reservoirs and support for extra-long graphics cards

Dual chamber design with partition panel to isolate power supplies and cables

Slip-and-clip solid state drive pockets with four mounting positions

Motherboard Type: ATX, microATX, Mini-ITX
Categories: Accessories & Peripherals, Computer Cases
Tags: Cabinet, Case, Chassis, Computer Accessories Tags: Cabinet, Cooler Master, COSMOS, Full Tower, Gaming, graphic, Motherboard, PC, Stylish
MasterCase 5
WITH FREEFORM™ MODULAR SYSTEM
The MasterCase 5 Series
At heart, the MasterCase 5 advocates a new relationship that binds component makers and users closer together. Its elegantly smooth, flexible FreeForm Modular System supports multiple outlooks, allowing you to upgrade rather than entirely replace your case as your needs change over time. Go with either basic dual top handles and standard door of the MasterCase 5 or an elevated mesh top cover of the MasterCase Pro 5.
FreeForm™ Modular System
We want you to have absolute control over how your case looks and functions. The FreeForm™ Modular System of the MasterCase 5 lets you adjust the exterior structure and aesthetic via a range of replacement panels and doors. Each choice changes the look and feel of the case, but also the flexibility of the interior layout.
Customize with External Modularity
Easily customize your case by adding a top cover and water bracket for a new look along with liquid cooling radiator support, freeing up space inside the case. And if you want to show off your system, a window side panel is also available. These options are included in MasterCase Pro 5 version or available separately.
Adjust Internal Layout Clip-and-Click Panel
But this isn't just about aesthetics. Each decision opens new possibilities.
Leveraging our unique clip-and-click panel, FreeForm lets users vertically adjust or entirely remove your optical disk drive (ODD) and HDD via sliding locks so intuitive you'll play with your configurations just for fun. Well, some people will. Just click-in the cages, and adjust the height to suit your needs. Position them at the top to allow room for up to three extra-long graphics cards, or retain only the bottom positioned cages to add a front-mounted radiator for even more cooling options.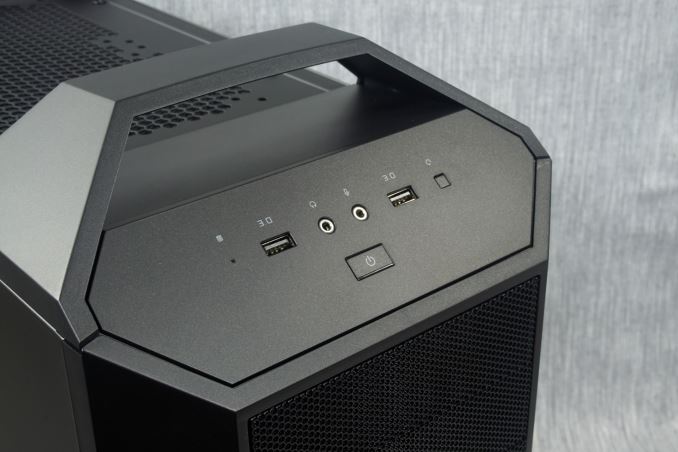 Introduction
Cooler Master is a very familiar brand name amongst enthusiasts. The company started off as a manufacturer of PC cooling solutions and quickly diversified towards cases and power supply units, to which they owe much of their current reputation. Today, the company enjoys global recognition and produces dozens of products, but they never cease to update and upgrade their catalogues either. In recent shows they had discussed that in previous years their vision was perhaps a little unfocused, and at the time they were taking in comments from users and media as well as determining their overall direction, platform and portfolio in the second half of the decade. Today we are having a look at their latest creation, the MasterCase 5 – part of their refocus towards a more 'make-your-own' product philosophy, which also formed part of their Computex demonstration platform around the slogan 'Make It Yours.'
Although the MasterCase 5 externally looks like just a tower case, Cooler Master is actually taking a huge bet with this product. This is their first case featuring the "FreeForm Modular System". Much like its name suggests, the company's aspiration is to make this the first truly modular case ever. Some extra parts and accessories were released alongside with the case but Cooler Master claims that many more are going to follow. We are having a thorough look at this new, unique design and some of its available extra accessories in this review.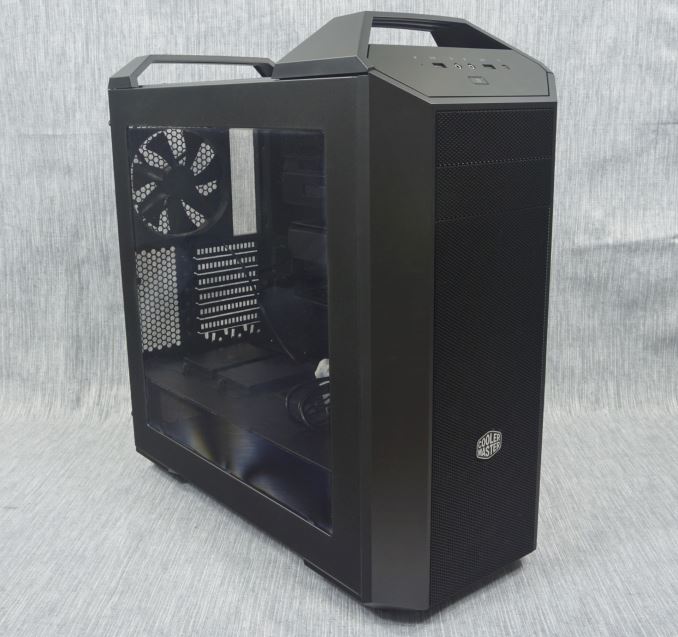 Packaging & Bundle
We received the MasterCase 5 in a large, sturdy cardboard box. The artwork is simple, based on a dark theme and focused on pictures of the case itself. Inside the box, the case is well secured between thick Styrofoam slabs and wrapped in a soft nylon bag. The packaging ought to offer more than sufficient protection during shipping.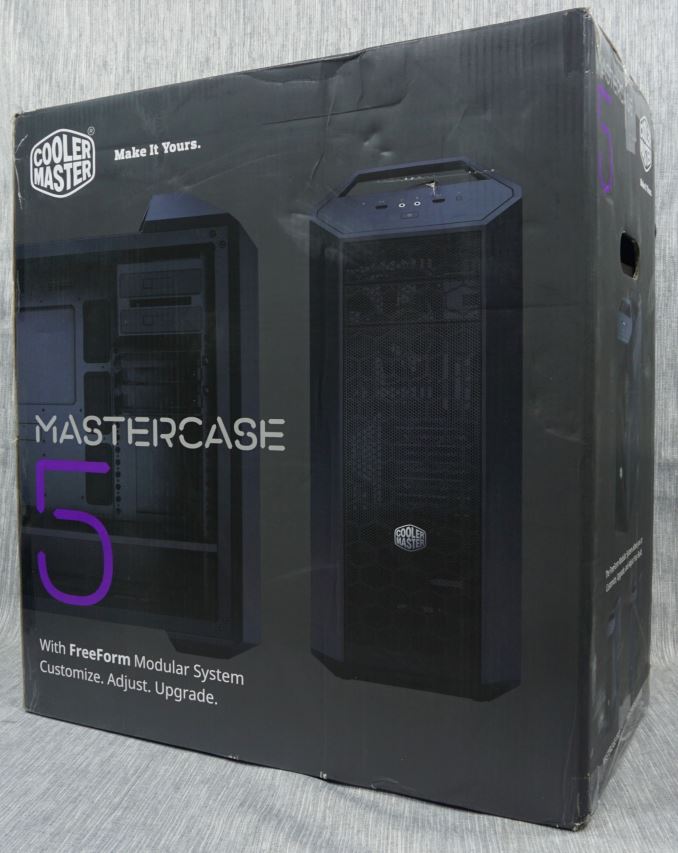 The bundle of the MasterCase 5 is very simple and straightforward. Still, it comes well presented in a compartmentalized small cardboard box. The bundle consists of a basic manual, an extra mounting bracket for a fan, several simple black cable ties, two black Molex to 3-pin fan adapters and the necessary mounting screws and hardware. With the exception of the motherboard's standoffs, all of the screws are black.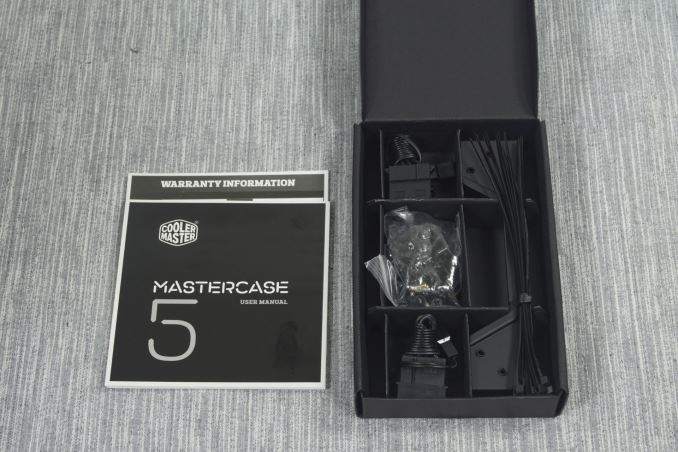 Accessories
The modular nature of the MasterCase 5 is supposed to allow upgrades and changes. Some of them are offered in the form of aftermarket accessories that can be purchased separately when needed. There are only a few accessories available right now but, we are told, more will become available in the future as the "modular case" trend picks up. Cooler Master supplied us with all of the accessories currently available for the MasterCase 5 and we are having a quick look through them.
The most basic accessory is that of an extra 2.5″ drive bracket. Two come with the case, but the MasterCase 5 actually has four 2.5″ bracket slots (two in the system area, two at the rear of the motherboard tray). Cooler Master offers extra brackets for those that want to populate more than two of these slots.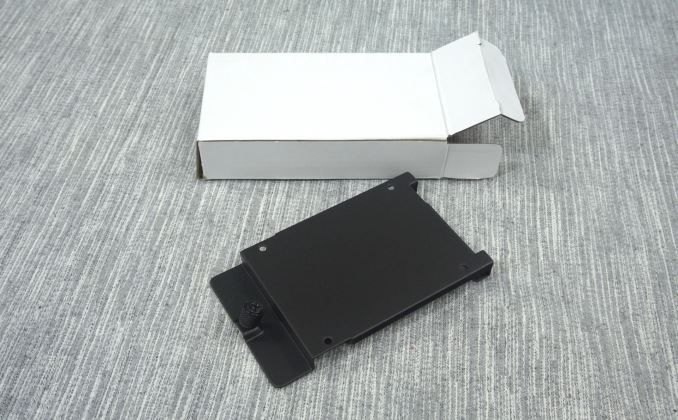 Perhaps the most obvious accessory for such a case would be the extra HDD/SSD drive cages. Cooler Master offers them in two variants, one for two drives and one for three drives. They come complete with their drive trays and extra mounting screws. The trays can hold either 3.5″ or 2.5″ devices.
Two accessories are available only for the MasterCase 5, as they are standard with the MasterCase Pro 5. These are the top mesh cover and the windowed side panel.
The windowed side panel is just what its name suggests – a windowed right side panel for those that would like to display their system. The black stripe that covers the PSU compartment area can be removed if desired.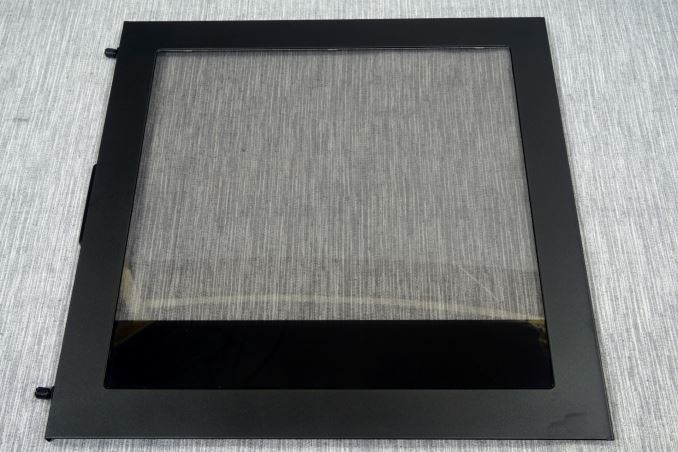 The top mesh cover replaces the straight metallic cover of the MasterCase 5. It is more than just an aesthetic upgrade, as it comes alongside a deep bracket/mount that allows for the installation of a liquid cooling radiator at the top of the case.
Additional information
| | |
| --- | --- |
| Weight | 11 kg |
| Dimensions | 52 × 25 × 55 cm |
Specification
Model Number
MCX-0005-KKN00
Available Color
Dark metallic grey exterior with black interior
Materials
SECC, Plastic
Weight
10.6 kg / 23.4 lb
Dimensions
All
512(L) x 235(W) x 548(H) mm
Body
460(L) x 235(W) x 460(H) mm
M/B Type
ATX, microATX, Mini-ITX
Expansion Slots
7
Drive Bay
5.25″ ODD
2
3.5″ HDD
2
2.5″ SSD
2 + 2
I/O Panel
USB 3.0 x 2, Audio In & Out (supports HD-Audio)
Cooling Support
Front
140mm x1 (pre-Installed)
120/140mm x2 (optional)
Rear
140mm x1 (pre-Installed)
Top
120/140mm x2 (optional)
Radiator Support
Front
240mm/280mm (up to 40mm thickness without fan)
Rear
120mm/140mm
Top
N/A
CPU Air Cooling Support
190mm/7.5 inch
VGA Card Support
w/ 3.5″ HDD Cage
296mm/11.7 inch
w/o 3.5″ HDD Cage
412mm/16.2 inch
Cable Management
25mm
Dust Filters
Front/Top/Bottom
Power Supply Type
Bottom Mount, ATX PS2