Cooler Master HAF 912 Combat MID TOWER CABINET (ATX)
₹7,199.00
Front mesh panel and air vents for optimized airflow
One USB 3.0 super speed port for 10x faster file transfer and smart phone / tablet charging (~0.9A)
Supports up to 6 fans
Side panel with fan mounting allows users to install one optional 120/140mm fan
Supports up to 4 ODDs, 7 HDDs and 4 SSDs for a plenty of expansion
Supports all high-end graphics cards up to 390mm/15.4″ in length, including NVIDIA GTX 690 and AMD HD 7990 with the 1st HDD cage removed
Categories: Cabinet, Computer Accessories
Tags: Cabinet, Case, Chassis, Computer Accessories Tags: Cabinet, Cooler Master, COSMOS, Full Tower, Gaming, PC, Stylish
Description
The HAF 912 Combat is a full black mid tower with a front mesh panel for optimized airflow. There is support for up to 6 fans. Two 120mm fans or one 200mm fan can be installed in the front for improved cooling performance. The side panel has a vent with fan mounting to keep graphics cards cool. High-end graphics cards, such as the NVIDIA GTX690 and AMD HD 7990 are supported thanks to the removable HDD cage. One USB 3.0 is on the front panel for faster file transfer and phone/tablet charging.
---
Front mesh panel and air vents for optimized airflow
One USB 3.0 super speed port for 10x faster file transfer and smart phone / tablet charging (~0.9A)
Supports up to 6 fans
Side panel with fan mounting allows users to install one optional 120/140mm fan
Supports up to 4 ODDs, 7 HDDs and 4 SSDs for a plenty of expansion
Supports all high-end graphics cards up to 390mm/15.4″ in length, including NVIDIA GTX 690 and AMD HD 7990 with the 1st HDD cage removed.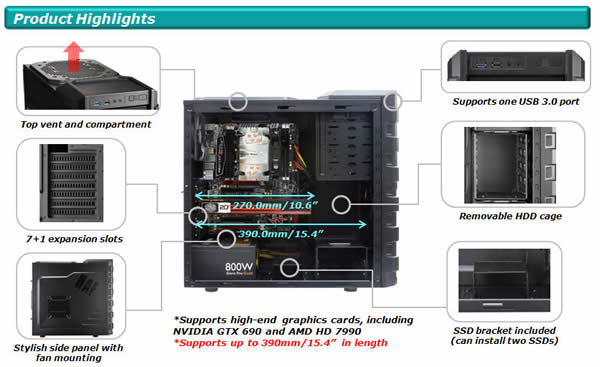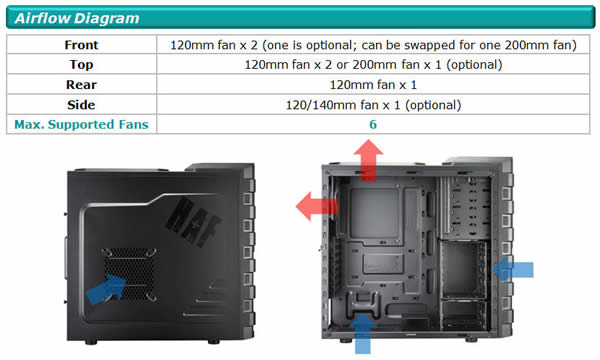 Specification
Additional information
| | |
| --- | --- |
| Weight | 8.07 kg |
| Dimensions | 27 × 52 × 53 cm |
Specification
Specification
Cabinet
DETAILED SPEC.

Model
RC-912-KKN2
Available Color
Full Midnight Black
Materials
Polymer, mesh, steel
Dimension (W x H x D)
230 x 480 x 496 mm / 9.1″ x 18.9″ x 19.5″
Net Weight
8.07 kg / 17.8 lb
M/B Type
Micro-ATX, ATX
5.25″ Drive Bays
4 (exposed; one is converted from 3.5″ drive bay)
3.5″ Drive Bays
1 (exposed; converted from 5.25″ drive bay), 6 (hidden)
2.5″ Drive Bays
4 (hidden, two are converted from 3.5″ drive bays)
I/O Panel
USB 3.0 x 1 (int.), USB 2.0 x 1, Mic x1, Audio x 1 (supports AC97 / HD audio)
Expansion Slots
7+1
Cooling System
Front: 120mm fan x 2 (one is optional; can be swapped for one 200mm fan)
Top: 120mm fan x 2 or 200mm fan x 1 (optional)
Rear: 120mm fan x 1
Side: 120/140mm fan x 1 (optional)
Power Supply Type
ATX PS2 / EPS 12V
Maximum Compatibility
VGA card length:
270mm / 10.6 inch (with HDD cage)
390mm / 15.4″ (without the 1st HDD cage)
CPU cooler height: 175mm / 6.9 inch

WARRANTY
2 YEAR
NOTE***
Features, Price and specifications are subject to change without notice.***